Add extra comfort and unique design to your bathroom with these durable Black Floating Shelves For Bathroom!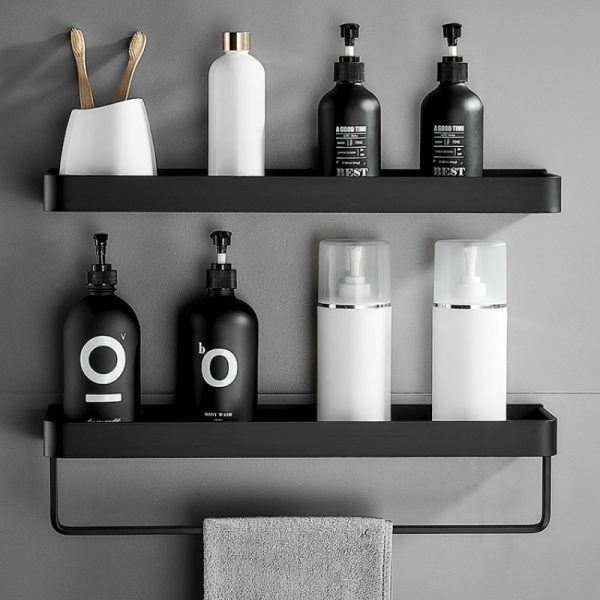 Black Floating Shelves For Bathroom are designed to provide the perfect storage space. They will help you keep your bathroom tidy and ensure proper hygiene. The innovative design allows you to use empty corners and turn them into ample storage space. These bathroom corner floating shelves can load items with a maximum capacity of 5kg.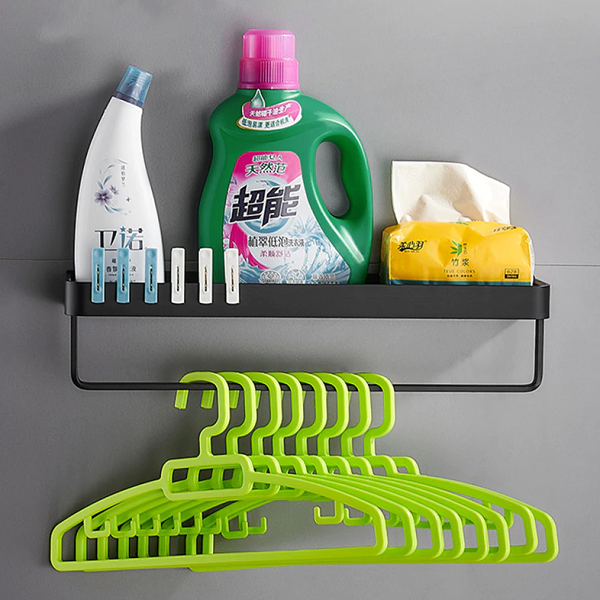 Wall-mounted floating shelves are solid and durable. Unlike ordinary floating shelves, our wall-mounted shelves are made of aircraft-grade aluminum alloy, which is highly resistant to water and corrosion. You can wash them with water without worrying about rust. There are also shelves available with hooks and a towel bar, which add extra comfort when it comes to holding sundries.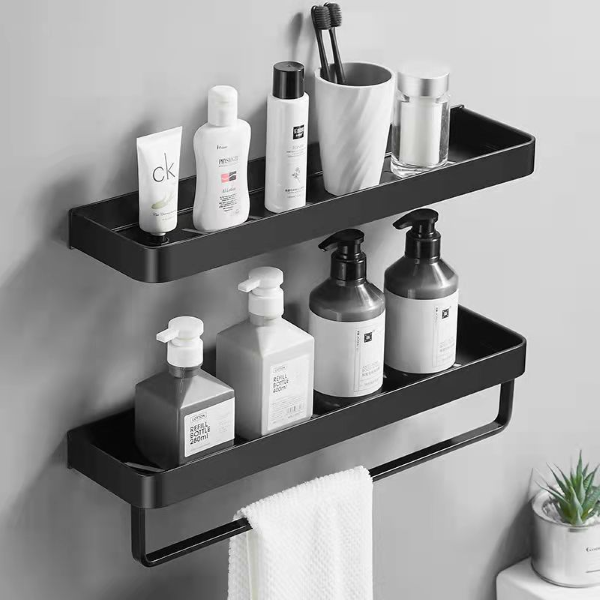 These floating shelves are multi applicable. They can be used in the bathroom, kitchen, or bedroom. In the bathroom, the storage shelf can hold skin care items such as shampoo, shower gel, lotions, and perfumes. You can use the rack to store spice and seasoning bottles in the kitchen. You can use the towel holder to hang towels or use hooks to hang kitchenware. And, in the bedroom, these shelves will fantastically display decor elements, plants, or clothes.
There are two installation methods: installation with and without drilling. The installation with drilling is suitable for all kinds of surfaces, including wallpaper walls and painted walls. The assembling without drilling is perfect for smooth surfaces such as ceramic tile, marble, glass, wood, and metal walls. You can glue the shelf to the wall with ease using adhesives included in the package.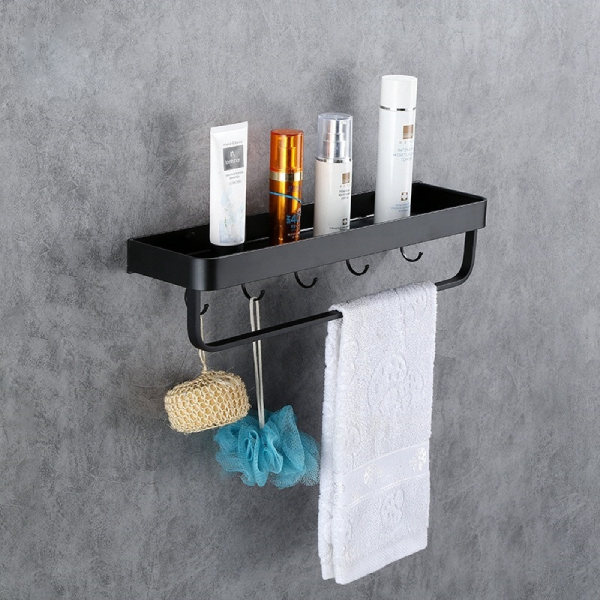 KEY BENEFITS:

✔️ HELPS TO SAVE SPACE — These shelves free the space up, creating a beautiful and tidy environment.
✔️ COMFORTABLE TO USE — The design of our shelves is user-friendly. Thanks to it, objects stay in place and never fall off. Moreover, hooks and a towel bar will provide extra comfort when holding sundries.
✔️ KEEPS BATH PRODUCTS DRY — The hollow design of the shower rack makes the water drain fast and keeps your bath products dry and clean.
✔️ DOESN'T HARM THE WALL — To install the shelf, you don't need to drill the wall. You can easily glue it to a smooth surface.
✔️ MULTI APPLICABLE — You can use the shelves in the bathroom and the kitchen, bedroom, living room, etc.
PRODUCT SIZE: