Upgrade your room's walls with these sturdy and inspiring Wooden Moon Phase Decorations!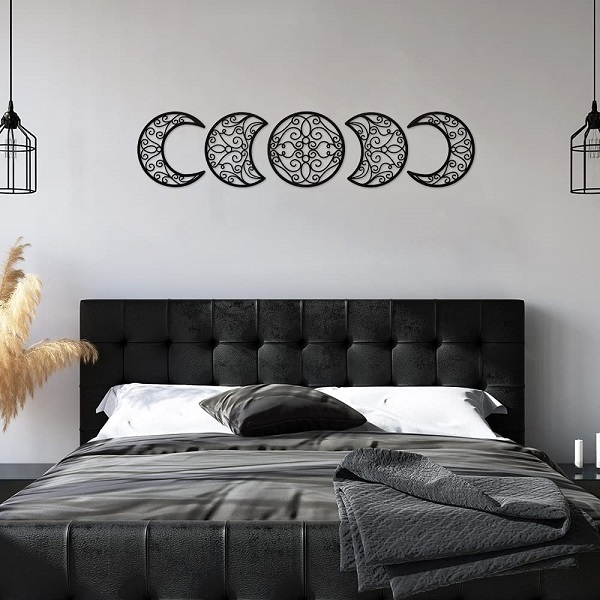 These 5 changing phases of the growth cycle of the Moon will bring a mysterious and charming atmosphere to your home. Its magnificent 3D hollow-carved design will make your home look more refined, creating a modern and comfortable space for your family. While adding a unique bohemian sense, this wall hanging matches any style and can go anywhere in your home. It is especially great for living rooms, bedrooms, hallways, kitchens, dining rooms, offices, etc. Moreover, this decoration consists of 5 parts, developing your creativity and freedom of action. You can DIY your own unique design by playing any combination of these pieces.
This wall hanging was inspired by the change of the Moon phase. Each phase of the Moon's cycle has a unique visual characteristic and spiritual meaning. While symbolizing wisdom, intuition, birth, death, reincarnation, and connection, its cyclical course also signifies the rhythm of life within us. By hanging the Moon phases decoration in your room, you will allow it to bring you positive energy and emotions. Moreover, this decoration will serve as a spiritual attribute.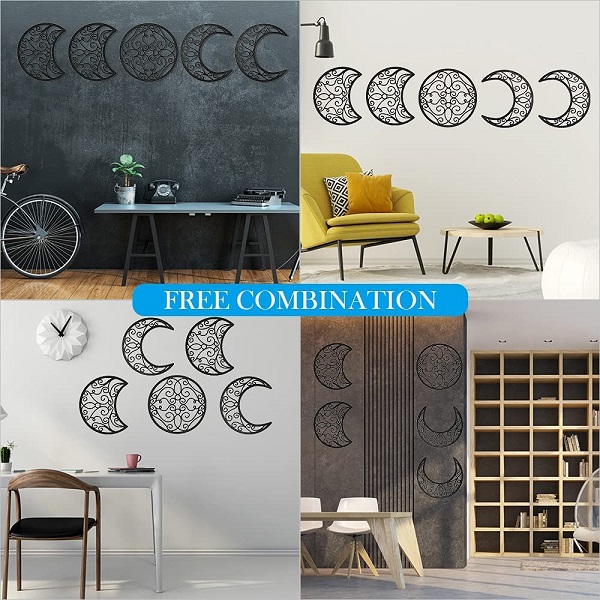 This Moon Phase Decoration is made of high-quality plywood materials. It makes the hanging quite durable and sturdy. It is also corrosion-resistant and has proved to have high performance in long service life as it is not easily breakable. Moreover, this decoration can be easily installed with no special tools. To install it, first of all, clean and dry the surface. Then, apply the double-sided stickers included in the package to the backside of each decoration. Finally, stick each segment to the surface after tearing off the protective film.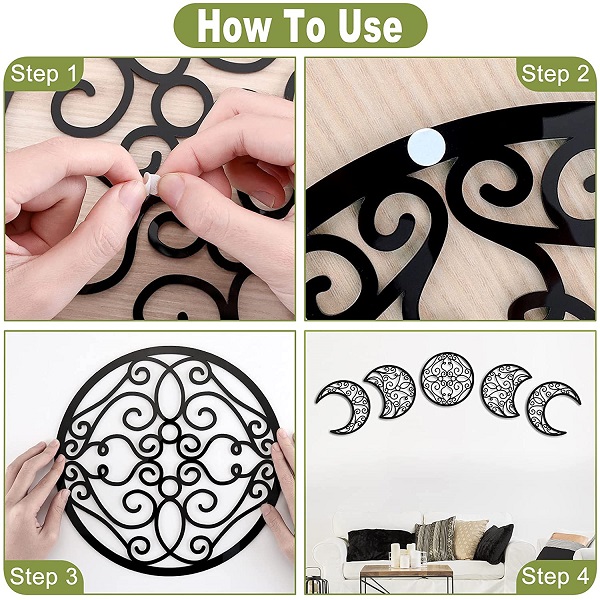 KEY BENEFITS:
✔️ CREATES A CHARMING ATMOSPHERE — Hanging this moon phase decoration will create comfort for your living space, making you feel relaxed at home.
✔️ PROMOTES MOON ENERGY — Representing the alteration of Moon phases, this decoration will bring positive energy and emotions into your home while also serving as an attribute of spiritualism.
✔️ CAN BE COMBINED AS YOU WISH — As this set consists of 5 pieces, you can freely combine them to create different designs according to your preferences and interest.
✔️ REQUIRES NO TOOLS TO INSTALL — This decoration comes with strong adhesives, so there is no need to damage the wall or use any other tools. It can be directly placed on any surface you want to decorate.
✔️ WIDE RANGE OF APPLICATIONS — This Moon Phase Decoration is suitable for beautifying various places, such as bedrooms, dining halls, living rooms, hallways, kitchens, dressing rooms, study, bars, or others.
PRODUCT SIZE: